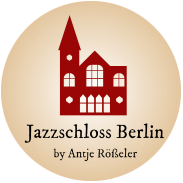 … in the chapel of the "Kaiser-Wilhelm-Gedächtnis-Kirchhof",
Fürstenbrunner Weg 69, 14059 Berlin-Westend
Sat, 14.08., 19:30: Jazzpiano-Solo Doppelkonzert
Martina Wildt (p)
Antje Rößeler (p)
Sat, 21.08., 19:30: Antje Rößeler Berlin Trio
Antje Rößeler (p)
Christian Müller (b)
Leon Griese (dr)
Thu, 26.08., 19:30: Visit from Helsinki
Carolina Wendelin (voc, git)
Antje Rößeler (p)
Janne Tuovinen (b)
Sat, 04.09., 19:30: Zahir
Lucía Boffo (voc)
Danielle Friedman (p)
Lisa Hoppe (b)
Sat, 11.09., 19:30: Paul Peuker Trio
Paul Peuker (git)
Lukas Growe (b)
Leon Griese (dr)
Sat, 18.09., 19:30: Flick/Rößeler/Hoppe
Birgitta Flick (sax)
Antje Rößeler (p)
Lisa Hoppe (b)
Bus 139, Friedhöfe Fürstenbrunner Weg
Bus M45, Königin-Elisabeth-Str./Spandauer Damm → walk 10 min
There are site plans on the churchyards website.
Unfortunately, concert-guests are not allowed to park in the cemetery and access is not barrier-free.
Free entrance, donation-recommondation 10-15 euros for the musicians and 5 euros or more for the castle. Corona rules will be followed (min. 26 seats with keeping 1,5m distance. Room size: 124sqm, 8m high).
bitte nicht löschen!
2020
11.07. Duo Antje Rößeler & Fabian Timm
15.08. Duo Antje Rößeler & Birgitta Flick
19.09. Antje Rößeler Berlin Trio
26.09. Monologues and Dialogues
03.10. Higino Andrade Trio
10.10. U.R.I.G Bassquintett
24.10. Michael Scheunemann 4tett